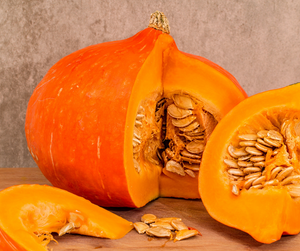 Fall is in the air! The leaves are turning colors, there's a crispness to the air, and it's officially pumpkin season. Did you know that pumpkin is great for your pets? It can help ease an upset stomach, whether your pet is suffering from constipation or diarrhea. Pumpkin is also a good source of vitamins and minerals such as Vitamin A, Vitamin E, potassium, and iron (among others). Pumpkin is rich in antioxidants and the added fiber can help your pet feel full if you're trying to help him/her slim down.
Too much of anything can be a bad thing, and that includes pumpkin. Aim for no more than one tablespoon per ten pounds of body weight. Also, make sure you're only feeding PLAIN pumpkin. Pumpkin pie filling contains spices that can be harmful to your pets.
Pupkin Spice Latte for Dogs*
¼ to ½ cup goat's milk

⅛ to ¼ cup plain canned pumpkin

Dash of ground cinnamon

Whipped cream (optional, be sure to use xylitol-free whipped cream)
Blend goat's milk and canned pumpkin together. Add a dash of cinnamon, top with whipped cream (if desired) and serve! If preferred, pour into ice cube trays and freeze for a fun frozen treat.
* This is intended as a treat, not as a replacement for any meals. You may wish to consult your veterinarian before introducing any new foods or treats, particularly if your pet has known health conditions.